A Peep Into Digital Transformation
To visualize digital transformation is not a simple task. A group of young entrepreneurs is stepping forward to showcase their digital talent to the world. Digital marketing is the need of the hour and many are trying to make a career or business out of it.
In India, there are more than 500 million internet users and as JIO's free internet or cost affiant data penetrated rural India's attention. Spreading the Digital Literacy and making the people aware of data privacy and security is very important.
When it comes to marketing, going digital has had massive consequences. Now properties of digital media such as more accurate metrics, combined with interactivity, have created whole new marketing opportunities.
K V Hudaif, Meghna Basant, Nidasha Riyaz, Dhanoop T and Shaneesh Kumar formed a Calicut based company named "QUADCUBES DIGITAL". Their aim is to provide a digital literacy campaign in rural areas, they focus on digital transformation programs to help entrepreneurs. Our country lacks proper social media awareness, team QUADCUBES assures awareness for the needy. They also provide Google and academy certified trainers to train.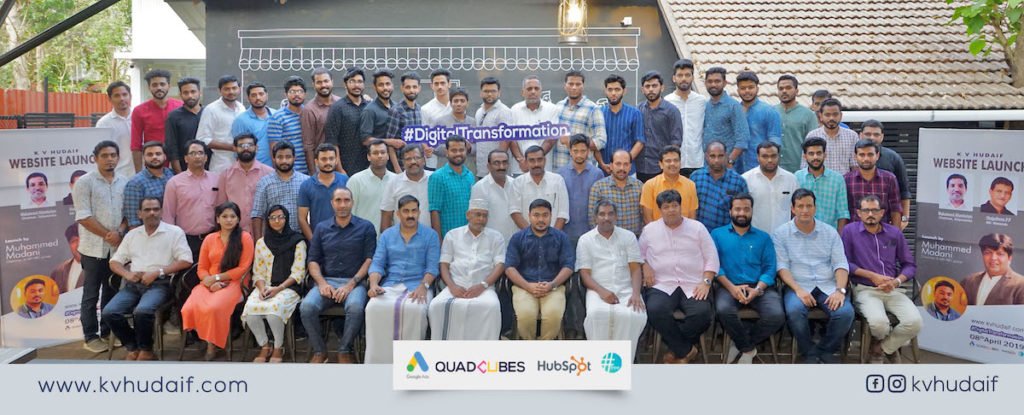 As a stepping stone to this transformation K V Hudaif, digital marketing strategist, launched his personal website on April 8, 2019. Mr Muhammed Madani K, chairman, and MD of ABC group inaugurated the program by launching the website. Other dignitaries witnessed the program were Mahamood Allamkulam( chairman, Taliparamba Municipality), Shajuddheen, K Muhammed Basheer (councillor Taliparamba Municipality), C Siraj, Riyas KS (merchant association president) Siddik and any others.